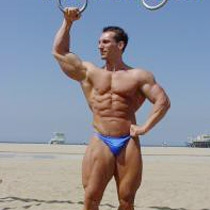 Jason K.
Personal Trainer "CPT"
Commit to transforming your body, and Jason Kozma will help you get there. With more than 20 years of experience and many body building titles, Jason attracts celebrities and professional athletes (think MLB and NFL stars) in addition to your average hard-working Joe.
As the owner of High Performance Personal Training, a premier fitness facility in the L.A. area, Jason strives to work clients out efficiently and effectively, achieving maximum results in the least amount of time. Whether advanced trainee or a first-timer to the gym, 100 percent of Jason's clients have lost weight or gained muscle within the initial two weeks of training before advancing to the next level of performance.
An ACE-certified personal trainer and a natural born competitor (he is the winner of such titles as Mr. America, Mr. Muscle Beach, Southern States Champion, Tennessee Valley Champion and Kentucky Derby Champion), Jason has acquired a variety of skills that give him an edge in the industry. And while he's one of Los Angeles' most sought-after trainers, Jason is humble to the end. "I especially take pride in my ability to make regular moms and dads look like movie stars and fitness models," he says.
Jason has extensive experience not only in bodybuilding but also in body shaping, sports performance training and nutrition and motivational techniques. He is versed in a range of martial arts forms and holds a black belt in Wado-Ryu Karate.
---
Certifications
American Council on Exercise (ACE)
Specialized Training
Master Personal Trainer