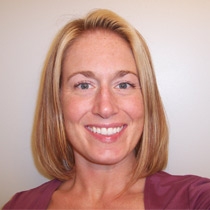 Kasey R.
Personal Trainer "CPT"
No stranger to the perils of a jam-packed schedule, Kasey Rundle knows that, "With our busy lifestyles, sometimes, it is a struggle to carve out time in the day for ourselves." That's why a session with Kasey drives clients to focus on "me time" for the duration of the workout. "You owe it to yourself," she resolves.
Kasey is a certified personal trainer through the American Council on Exercise. Her fitness programs are designed to enable clients to improve their health and appearance, inspiring them to lose excess weight, gain muscle tone and transform their body and mind.
At Focus Fitness, Kasey hopes to give her clients more than an energetic workout. She also strives to educate her clients in the areas of strength training, cardiovascular endurance and fitness nutrition, setting them on a path of long-term wellness.
An exercise enthusiast herself, Kasey enjoys the satisfaction of completing a challenging workout, and knows just how rewarding it can be to set a goal and accomplish it. Focus Fitness is a means by which Kasey can encourage others to achieve similar feats. "I want to share my passion of fitness and help others see the reward of being active and fit," she says.
Kasey finds enjoyment in watching her clients physically and emotionally transform right before her eyes. When she's not choreographing her next Turbo Kick class or researching the latest health products and supplements, you can find her at the stable tending to her equine family, Leon and Mack.
---
Certifications
American Council on Exercise (ACE)
Specialized Training
Certified Turbo Kick Instructor