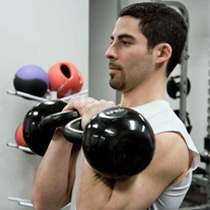 Ryan J.
Personal Trainer "CPT"
Practicing and teaching a number of different kinds of exercise, Ryan Jankowitz is an ACE-certified Personal Trainer, an RKC-certified Kettlebell instructor, and a TCCII associate kung fu and qigong instructor.
A lifelong sports and fitness enthusiast, pursuing secondary education in nutrition and earning a personal training certification was only natural for Ryan. Throughout his career, Ryan has explored a variety of other modes of exercise, from weight lifting and Kettlebell training to the more graceful movements of kung fu and qigong. Ryan passes this knowledge and experience on to his clients as he helps them achieve their goals.
Ryan continues to train and push himself—he's not the kind of coach to stand by the sidelines as his clients sweat. In fact, Ryan trained for five months before attempting to earn his Russian Kettlebell certification, during which time he had to endure a grueling two days of tests. Ryan managed to give a thumbs-up to his instructor when he passed the final test (100 snatches of 24kg kettlebells—in five minutes) before he "proceeded to flop down on the floor as the pain subsided" and sensation returned to his hands.
---
Certifications
American Council on Exercise (ACE)
Specialized Training
RKC Certified Kettlebell Instructor, 2011
TCCII Associate Kung Fu and Qigong Instructor, 2010