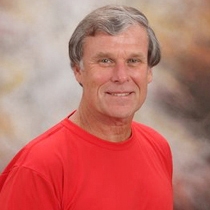 Nicholas P.
Personal Trainer "CPT"
Nicholas Prukop, an author, personal trainer and a pioneer of healthy aging, has been a fitness professional since 1990. His primary goal: to share the principles of healthy aging with clients and audiences of all ages.
A runner who's accumulated more than 60,000 miles since he first stepped foot on the track in 1964, Nick is passionate about being active and loves helping his clients to feel the same way. His customized programs have helped countless individuals, ranging in age from 14 to 95, to discover a place of physical fitness and happiness.
It's with a strong sense of duty and determination that this former member of the U.S. Air Force and the California Air National Guard approaches his current professional mission. In 2000, Nick earned recognition as a Master Trainer by the IDEA Health & Fitness Association, a leading organization of health and fitness professionals both in the U.S. and abroad.
A veteran personal trainer, Nick truly believes that it's possible to "unlock the real answers" to those pending health questions by remaining active—physically and mentally—with every passing year. And with Nick, getting in shape has never been easier—in fact, he brings workouts to clients in and around Newport Beach, Calif.
---
Certifications
American Council on Exercise (ACE)