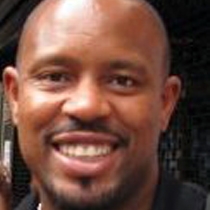 Anthony M.
Personal Trainer "CPT"
NASM-certified health and fitness coach and health mentor Anthony McElroy doesn't have clients. "I prefer to call them 'athletes,'" Anthony says.
This doesn't mean he only works with sports professionals. To the contrary, Anthony's "athletes" run the gamut from high school varsity players to elderly individuals who just want to feel a little steadier climbing the stairs. No matter their age, the difference between working with Anthony and merely hitting the gym is huge. "Other people work-out", Anthony says. "We train."
Anthony trains anywhere and everywhere, outside or in homes. His sessions require little actual equipment, though it is available if the client prefers. He uses honest and positive feedback as motivation, and strives to help his athletes build focus and consistency. "We walk the path together," he says.
With over 20 years of experience, Anthony and his holistic approach to health and wellness definitely garner results. As he recalls, "My longest running client, a 57 year-old male, is in better overall shape and conditioning than most individuals (male or female) half his age."
At the end of the day, Anthony feels lucky to love what he does. "I enjoy the opportunity to positively influence and impact someone's life. It's a great feeling to help another person improve, no matter how large or small their goal."
What to Expect
A typical session will begin with an explanation and demonstration of the session's tasks, then an active and appropriate warm-up, followed by the primary workout of the day (strength training, sports and conditioning exercises, boxing—focus mitts, heavy bag, shadow boxing, etc.) and finish with a cool-down period of light cardio movement and/or stretching.
---
Certifications
National Academy of Sports Medicine (NASM)
Specialized Training
Certified Nutrition and Health Coach, Institute For Integrative Nutrition, New York
Certified CrossFit Trainer
Certified Natural Trainer, Monkey Bar Gym
Certified USA Olympic Boxing Coach
Certified USA Olympic Weightlifting Coach
Certified Indoor Rowing Coach (specialized instructor training on indoor rowing machine or erg)
CPR Certified (American Heart Association): adult/child CPR, adult/child AED, infant CPR