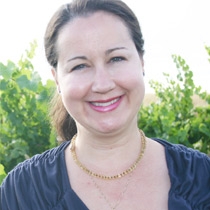 Jennifer A.
Acupuncturist "LAc, MSTOM"
Good health is a choice, says licensed acupuncturist Jennifer Aubert. It can be obtained by anyone who desires it, and is open to making changes.
Jenn, who holds a master's degree in Traditional Chinese Medicine, says its her mission to unite TCM with Western biomedicine in order to most effectively treat her patients' current conditions, while helping them achieve optimum health through preventative care.
She knows of what she speaks. Jenn first came to acupuncture as a patient, suffering from stress due to a high-pressure corporate job, as well as the digestive issues and allergies that had plagued her all her life. She experienced near-immediate relief—and a desire to help others benefit from what she considered a huge leap toward a "healthier, happier, more vibrant life."
Jenn now brings relief to her west coast clients at Cl Acupuncture. As she notes, Stress is inevitable in our hectic lives. It can wreak havoc on your health. Acupuncture can help you reach a state of pure relaxation, and allow your body time to heal.
What to Expect
A first visit generally includes an in-depth interview and exam, followed by a discussion of the clients health concerns and goals. Clients remain fully clothed during the procedure, and may experience a mild pricking sensation when needles are inserted. Typically, clients rest with needles in place for 30 minutes while soft music plays. After the session, an individualized plan for further treatment will be discussed and devised.
---
Professional License
California Acupuncture License #13461
Certifications
National Certification Commission for Acupuncture and Oriental Medicine
California Acupuncture Board
Specialized Training
Yo San University, Los Angeles, CA, Advanced Certificate in Chinese Nutritional Therapy