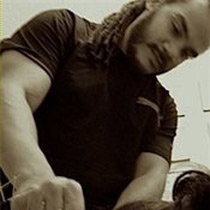 Wilton V.
Acupuncturist "LAc"
As an acupuncturist, Wilton Valerio has learned that not all conditions go away over night. Being consistent with any form of therapy is key, he explains, whether in acupuncture, exercise, nutrition or meditation. Be consistent, and your health can improve.
With more than a decade of sports and martial arts training (specifically in Eskrima, a Filipino martial arts form), Wilton has a strong understanding of the human body, patients' conditions and the most effective and comforting treatments available. Many of Wilton's patients are suffering from localized pain in the back, knees and neck, whether caused by athletic endeavors or sitting in front of a computer for extended periods of time.
Born and raised in New York City's Washington Heights, Wilton is sensitive to the financial restrictions that oftentimes make conventional medicine inaccessible to those who need it most. It was this discord that inspired him to study Chinese medicine and to offer alternative treatments, flexible appointment scheduling and affordable rates in the community.
"Helping people has always been a rewarding experience for me," says Wilton of his professional journey. A patient and versatile practitioner, Wilton offers acupuncture with traditionally thin, sterile and disposable needles along with electric stimulation, heat therapy, cupping, Gua Sha (scrapping) and Chinese herbology as needed.
---
Certifications
National Certification Commission for Acupuncture and Oriental Medicine
Specialized Training
Pacific College of Oriental Medicine, Acupuncture and Chinese Herbal Medicine, New York, NY (2008)