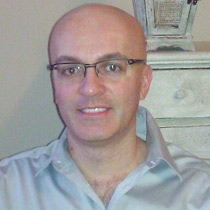 Brian K.
Massage Therapist "LMT"
Manhattan-based licensed massage therapist Brian Kocun takes healing and rehabilitation to heart.
"I work with clients from all walks of life; from Wall Street brokers to Broadway dancers," Brian says. "They are all extremely important to me."
A graduate of the Swedish Institute, Brian is also certified in the Active Release Technique, or A.R.T. Brian believes the technique is revolutionary and effective in speeding up the healing process.
"It's more aggressive than other techniques," he explains. A.R.T. involves "trapping" the affected tissue, then moving the muscles around it. The tissue is taken from a shortened to elongated position, alleviating tension.
Brian loosely separates his practice into two services: medical massage and relaxation massage. During a relaxation massage, clients experience a variety of therapeutic massage techniques, with the goal of managing stress and maintaining health. Medical massage is focused on treating a primary injury, sustained from an accident, or a chronic condition, such as sciatica or migraines.
Outside of sessions, Brian encourages his clients to include proper nutritional and chiropractic care in their overall post-rehabilitation regimens. "My focus is prevention of future problems," Brian says. He goes on to say that experts estimate 80 to 90 percent of disease is caused by stress. "Massage is here to help you combat that number."
---
Professional License
27 020422
Certifications
New York State Board of Massage Therapy
Specialized Training
Swedish Institute of Massage Therapy, 2006