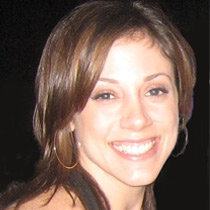 Maytal R.
Pilates Instructor
Maytal Rozenser is one of a handful of Romana's Pilates instructors in Los Angeles. She teaches in 3 studios around LA: Hermosa Beach, Santa Monica and West Hollywood. Maytal only uses on Gratz equipment to provide the best quality work for my clients.
Maytal is a 3rd generation Romana's Pilates teacher, certified through the Romana's/True Pilates program, and hails from North Jersey/New York. Among many activities her background includes over 20 years of formal dance training in various techniques, competitive cheerleading, beach volleyball and music. She was first introduced to Pilates at the age of 15 and has since sought to expand her knowledge of the method. After receiving her BA in Visual Arts she spent a few years working in the corporate world.
Maytal was introduced to the Romana's method in 2006 and instantly decided to pursue Pilates instruction as a career. Under the tutelage of such teachers as Sari Mejia Santos (Romana's daughter), Cynthia Lochard, Trish Garland, and Jay Grimes, Maytal regularly participates in Pilates workshops and events to continue building her skills. She has been featured as a model and consultant on various Pilates exercise videos. Maytal has greatly benefited from the practical application of the Pilates disciplines in her daily activities. Her goal is to enable her clients to do the same.
---