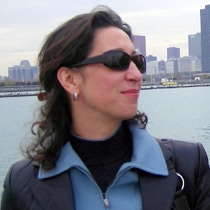 Nataliya M.
Massage Therapist "CMT, LMT"
A licensed and nationally certified massage therapist, Nataliya McAfee's practice concentrates on the treatment of physical concerns such as whiplash, bulging disk pain and Parkinson's pain relief.
Nataliya credits her unique attitude to an array of life experiences that have taught her how to deliver successful massages that offer real relief from pain and enhance the quality of client's lives. She was born and raised in the South of Ukraine, on the Black Sea, and brings her genuine belief in natural healing to every session.
Nataliya began training in Russian massage and Swedish massage forms more than 16 years ago while still living in Europe. Upon moving to the United Sates, Nataliya continued to professionally grow in the health and wellness field working as a Certified Nurse Assistant at long and short-term medical facilities.
Trained and certified in Restorative Care (a physical therapy modality intended for seniors), Nataliya went on to pursue her bodywork degree at the Louisville School of Massage, completing 750 hours of therapeutic massage instruction and performing additional research in Advanced Myoskeletal Techniques and neuromuscular reprogramming. Today, sessions may call upon a combination of Eastern theories and Western practices, though her signature massage leans more toward the former.
---
Professional License
KY License # 4319
Certifications
Kentucky Board of Licensure for Massage Therapy
National Certification Board for Therapeutic Massage and Bodywork
Specialized Training
Louisville School of Massage