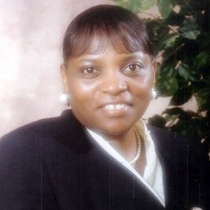 Cyretha S.
Massage Therapist "LMT"
Cyretha Staton is a licensed massage therapist in St. Louis, Missouri. She has been a licensed practitioner since 2003, and has logged over 1,000 hours of massage training.
A native of St. Louis, Cyretha worked as a cosmetologist and hairstylist for 30 years before switching careers to be a massage therapist. Because that career involved regular exposure to chemicals she felt were not healthy, she explains that her career change was motivated by a desire to find a career that is not only healthier for herself, but also one that brings health and wellness for her clients.
"I like the idea I can make a difference in a person's well-being," Cyretha says. "Their quality of life is my business."
A large portion of Cyretha's practice are clients seeking deep tissue and sports massage for nagging injuries like back pain and neck pain. To help her clients, she employes a variety of techniques, including Swedish massage, deep tissue massage, hot stone massage, reflexology, acupressure, trigger point therapy, and isolated stretching.
---
Professional License
2003016442
Certifications
Missouri State Board of Therapeutic Massage