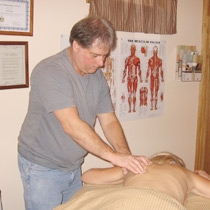 Ken E.
Massage Therapist "CMT"
Ken Elwood, a licensed massage therapist in Fostoria, Mich. (located right in the thumb), performs full-body massages to restore and balance muscle groups using advanced bodywork techniques tailored to client needs.
A registered nurse and a graduate of The Flint School of Therapeutic Massage in Saginaw, Mich., Ken specializes in chronic pain relief for conditions such as sciatia, chronic myofascial pain, carpal tunnel syndrome, scoliosis and spondylosis. He is a certified myoskeletal therapist (level one), and utilizes his focused training to treat common systemic problems of the body.
"Pain crosses all walks of life—rich, poor, pain isn't selective," says Ken, a professional member of the American Massage Therapy Association. With this in mind, he takes great pleasure in observing his clients as they find relief through therapeutic touch. "The look of wonder and gratitude is amazing to see," he describes.
---
Specialized Training
Certified Myoskeletal Therapist, 2011
The Flint School of Therapeutic Massage, Saginaw, MI, 2005