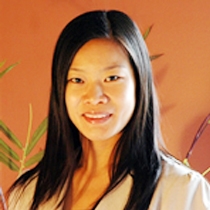 Angie N.
Acupuncturist "Dipl Ac, LAc"
It was Angie Ng's own experience with acupuncture that motivated her to leave her corporate job in order to help others through therapy and traditional Chinese treatments.
Angie has offices in downtown Chicago and Lincoln Park. An expert in many traditional Chinese therapies in addition to acupuncture, she believes in "holistic and individualized treatments for lasting and meaningful results."
Angie's method is a blend of Eastern and Western therapeutics that offer an integrative approach to health. She takes the time to truly get to know her patients, their overall health and their individual needs. This knowledge allows her to develop a comprehensive treatment plan that aids not only the immediate problem but also its underlying cause.
With a firm understanding of Chinese medicine, Angie is prepared to treat a wide range of ailments that stem from both physical and emotional imbalances. She has helped patients with issues as diverse as joint pain, sports injuries, insomnia, depression, digestive disorders, addictions, respiratory issues, reproductive health and recovery and rehabilitation.
In order to truly empower her patients, Angie also encourages them to take a proactive role in their own wellness. She offers advice on meditation, exercise, diet and other habits that can lead to a healthier lifestyle. A true believer in the benefits of acupuncture and other traditional treatments, Angie is dedicated to helping her patients restore balance through "thorough, individualized and comprehensive care."
---
Professional License
198000772
Certifications
National Certification Commission for Acupuncture and Oriental Medicine
Illinois Department of Professional Regulation
Specialized Training
Northwest Institute of Acupuncture and Oriental Medicine (NIAOM), Seattle, WA, 1988