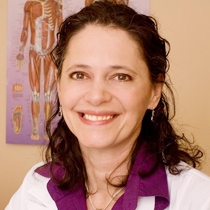 Ann M.
Acupuncturist "LAc"
Clients who seek out certified acupuncturist Ann McKinney at her office in Groton, Mass. often have allergies or pain associated with injuries. She addresses these complaints, along with those for anti-aging techniques, offering a sense of healing and renewal with the help of microcurrent technology.
"This is a very natural way to rejuvenate the skin and collagen," Ann says of the microcurrent system she uses. "Not only is the benefit to the face—the whole body receives a treatment as the points on the face correspond to the rest of the body."
Growing up in the United Kingdom, Ann moved to Vancouver, Canada, where she studied at the International College of Traditional Chinese Medicine. She also became certified for allergy elimination treatment.
Ann believes that clients who are compliant between sessions get the most benefit out of their treatment. This means engaging in various exercises, making dietary changes at home and allowing enough time for self-care between sessions.
For clients seeking to expand on wellness, Ann works with chiropractors and massage therapists to create an individual treatment plan.
---
Certifications
National Certification Commission for Acupuncture and Oriental Medicine
Specialized Training
International College of Traditional Chinese Medicine