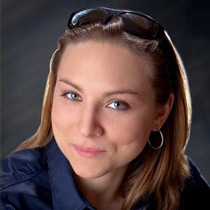 Jennifer S.
Personal Trainer "CPT"
When it comes to your health, don't waste any time, says Jennifer Stauffer—an AFAA personal trainer who knows that fitness and strength go hand-in-hand.
After sustaining injuries during a previous job, Jennifer began searching for ways to rehabilitate her body. Rather than waiting around, she decided to grab a few free weights and get to it. The result? Jennifer healed faster than the doctors said she could.
Soon after, Jennifer earned her certification through the Aerobics and Fitness Association of America. Her lively approach combines a little bit of everything, from kickboxing and yoga-inspired exercises to free-weights and cardio, meaning boredom is not an option. Ever.
One of the most important lessons Jennifer teaches her clients is to personalize their workouts so that they can have fun while executing them. Laughter is a strong component to every session too, as are commitment and perseverance.
---