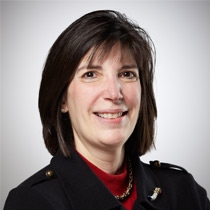 Theda K.
Facial Plastic Surgeon "MD, FACS"
Dr. Kontis is an expert in surgical facial rejuvenation and non-surgical enhancement with fillers and Botox. She believes in natural appearing results, and works with her patients to develop a plan for their facial enhancement, which may include skin care, injectables, and perhaps surgery.
"I feel that being a woman helps me better understand the cosmetic goals of my patients," says Dr. Kontis.
Dr. Kontis completed a residency in otolaryngology-head and neck surgery and a fellowship in plastic and reconstructive surgery, both at Johns Hopkins Medical Institutions. She received her board certification from the American Academy of Facial Plastic and Reconstructive Surgery in 1998, and in 2001 received the Resident Teaching Award from the Johns Hopkins Department of Otolaryngology-Head and Neck Surgery. Dr. Kontis has also been active in research and has published widely throughout her career.
Dr. Kontis is highly skilled in facial filler injections, and is a member of the national education faculty of Allergan, maker of Botox and Juvederm.
At Dr. Kontis' practice, she offers facial injectables, laser treatments, skin care, and the full range of surgical services, from eyelid lifts to revision rhinoplasties. Dr. Kontis calls her practice "the ultimate in 'one-stop shopping.'"
The Environment
Dr. Kontis' office provides a warm, comfortable setting, and her staff excels in customer service. Surgeries are performed in an on-site, fully accredited Surgicenter.
---
Certifications
American Board of Otolaryngology