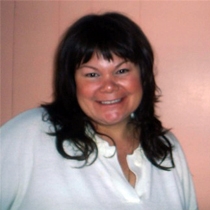 Sharyn C.
Massage Therapist "LMT"
Listen and honor your body, says Sharyn Cerio-Bernstein, a licensed massage therapist and energy healer. With more than 25 years of experience, Sharyn is a seasoned and skilled bodyworker, and focuses her practice on therapeutic massage.
Sharyn is licensed to practice massage in the state of Colorado, where clients have come to rely on her intuitive approach and "pure intent" when it comes to supporting and improving their health and well-being.
Part of Sharyn's success is founded in her honesty, as clients always know what's in store before a session begins. Whether new to her studio or a regular guest, Sharyn always explains her methods and answers all questions prior to beginning, each session which differs from the last due to the unique needs of her clientele.
Sharyn's studio can be described as homey and cozy, and clients feel an immediate sense of relaxation and calm upon entering the space. The aura of the environment further enhances the invigorating nature of her work, which can be especially beneficial for elderly clients and those battling serious health concerns.
---
Professional License
License # 13933
Certifications
Colorado Department of Regulatory Agencies