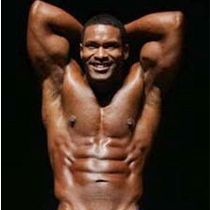 Deuce W.
Personal Trainer "CPT"
Deuce Witherspoon is not your average Hollywood local. A native of South Carolina, Deuce retains his down-home country charm and genuinely warm nature; but that doesn't stop this certified personal trainer from creating intense workouts that obtain noticeable results.
A former division I athlete and competitive bodybuilder, Deuce was used to high-end training. After graduating, he no longer had access to the top-notch equipment and coaches available during college, so he decided to pursue top-notch training on his own. Eventually, he set up his own private gym, where he now helps others achieve the bodies of their dreams.
"I'll open a can of you-know-what and 'whoop' you right into shape," says Deuce. He believes his clients receive twice the results in half the time spent with traditional exercise programs, especially those that take a "one size fits all" approach. In contrast to generic routines, Deuce plans sessions around the individual's specific body structure and needs.
Guiding others through necessary diet and exercise changes gives Deuce a natural high. Seeing them physically transform, while gaining more confidence in the process, inspires him to do more. For a competitive athlete who is always on his game, that is saying a lot.
---
Certifications
International Fitness Professionals Association (IFPA)
Specialized Training
Equinox Fitness Training Institute (EFTI)