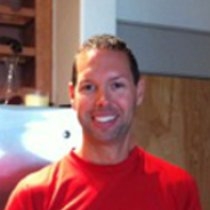 Greg R.
Personal Trainer "CPT"
With a focus on functional training and weight loss and a passion for preventative medicine, Greg Rainbolt is a pioneer in the health and fitness industry, crafting tailored wellness programs for individual and corporate clients for the last 15 years.
Greg encourages clients to take responsibility for their health. Accountability is a paramount factor when striving to create behavioral change, and Greg supports his clients through this process through education, awareness and motivation.
A certified personal trainer through the National Academy of Sports Medicine, Greg has designed exceptional and unparalleled wellness programs for a number of corporations, from Exxon and NASA to Johnson Engineering, SpaceHab, Chevron, Marathon Oil and more. He is the owner of iThrive Health, and has ample experience in the management of executive health and corporate wellness programs.
---
Certifications
National Academy of Sports Medicine (NASM)