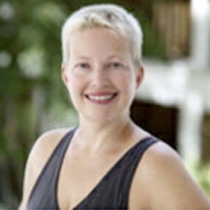 Lynda L.
Pilates Instructor
Master Trainer and celebrity Pilates instructor Lynda Lippin "instructs, supports, nurtures and pushes her clients to move past their perceived thresholds of body, mind, and spirit and embrace new found strength, flexibility, coordination, and energy with less pain and stiffness."
There's a reason why former Financial Times travel writer Rahul Jacob says that Lynda is the best Pilates teacher he has ever worked with—anywhere in the world. So much more than a Master Trainer, Lynda uses exercise, energy and bodywork as a vehicle for health, healing and wellness.
Lynda's teaching style, which is described as "nurturing yet demanding," allows clients, from journalist Natalie Livingstone to former W publisher Caroline Nation, to overcome barriers of the body, mind and spirit while exploring, discovering and ultimately embracing new reserves of strength, flexibility, coordination and energy.
Lynda is the recipient of numerous awards in her field, including 2003 Best of Philly Pilates Studio from Philadelphia Magazine and the 2011 SpaFinder Magazine Reader's Choice Award for Best Pilates. She is a Master Reiki practitioner and holds certifications in TRX as well as Kettlebells.
---
Specialized Training
Pilates Certifying Teacher Certification, PhysicalMind Institute, 2000
PhysicalMind Institute, 1993
ACE Fitness Personal Trainer Certification, 2000
Usui Reiki Master, 2006
Fitness Anywhere TRX Personal Training, 2010
Kettlebell Concepts Level 1 Instructor, 2010
Osteoporosis Pilates Protocols, 2003
Gait Training Pilates Protocols, 2003
Pilates for Golf, 2002
First Aid/CPR/AED, Red Cross, Ongoing