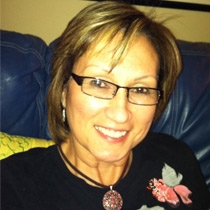 Sandra D.
Esthetician "LE"
Sandra Dos Santos Smith is a licensed aesthetician near Chandler, Ariz. who offers clients the chance to escape life's ever-busy schedule and enjoy an hour of relaxation and peace.
Sandra's training allows her to pinpoint areas of tension. She uses her expertise to relieve the body of pain, begin the healing process and promote self-care and awareness. As she puts it, "Healing is when you go to the root of the problem and restore the body's balance."
Personalization is an important part of this healing process. To do so, Sandra custom tailors body therapy and skin care sessions to ensure that clients leave looking and feeling their best. While her services are suited to anyone in need of rest and rejuvenation, the ideal client also harnesses a sincere wish to help themselves, facilitating this healing and growth process on their own accord.
Enhancing her wellness programs on a constant basis, Sandra is a master and teacher of Reiki, an energy healing modality that harmonizes the body, mind and spirit. A powerful and gentle healer, through Reiki, Sandra can help balance the energies of the body, strengthen the immune system, clear toxins, enhance personal awareness and reduce stress.
---