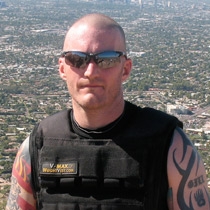 Corey G.
Personal Trainer "CPT"
Corey Gill is a National Academy of Sports Medicine certified personal trainer with more then seven years in the fitness industry. He trains individuals and small groups in Glendale, Ariz.
In the summer of 2011, Corey, at the young age of 35, suffered four strokes due to an undetected blood clot. He credits his quick recovery from this serious medical condition (not to mention a six-hour surgery to remove the blood clot) to his intense fitness routine, and within no time, Corey was back to his regular workouts, long outdoor hikes and a four-mile obstacle course race.
Corey credits his Nebraska upbringing for his "Midwest" work ethic and enjoys helping others to discover how important it is to stay in shape and be physically fit. Neither naturally skinny or athletic, he knows firsthand how difficult it is to lose weight and maintain a healthy body, and has a unique sense of empathy for those who feel the same.
---
Certifications
National Academy of Sports Medicine (NASM)