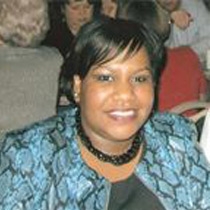 Adrienne F.
Aesthetician
Avoid the need for future, more serious treatments, by taking care of your skin now, urges Adrienne Foster, a licensed cosmetologist in Louisville, Ky.
Adrienne brings more than 20 years of experience in the wellness industry along with a wealth of knowledge of skincare to each and every appointment. An Ohio native, Adrienne was employed by a number of well-known salons in the area before deciding to open the doors to her very own establishment, where she could focus on facial skincare—her passion.
Having met all types of skin concerns, Adrienne is well-versed in the treatment of oily, dry, mature and youthful complexions, and is particularly familiar with those who are affected by cystic acne. Paying homage to her expertise, local plastic surgeons refer their pre- and post-operative patients to Adrienne for ongoing care.
Adrienne's mission is to offer all of her clients personalized care for their skin while also educating them on how to maintain the results long after an appointment is over. She welcomes to opportunity to deliver the best service in the industry and to continue raising the bar in every service she provides.
---