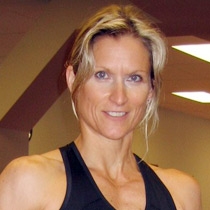 Gloria G.
Pilates Instructor "CPT"
An athlete for nearly 20 years, Gloria Garwood helps whip bodies young and old into shape. The certified Pilates Reformer instructor and a certified personal trainer knows what she's talking about—she looks decades younger than her years.
Gloria's clients include everyone from thirtysomething women looking to stay fit to baby boomers wanting to improve mobility and trim waistlines. With her background in sports—basketball, volleyball, tennis, softball and track and field—as well as classic Pilates, the trainer believes the key to athletic success lies in mastering fundamentals and core awareness and converting those skills into controlled, kinetic power.
Within 10 sessions, clients can expect to see improved flexibility, mobility and confidence along with overall well-being.
"I engage the client with an example of proper form, and count down reps after proper form has been demonstrated," says Gloria. "I give constant feedback on all of the muscle groups they are engaging, and when the client is nearing failure, I keep focus on form and muscles they should be engaging."
What to Expect
Depending on injuries or sore muscles, clients receive a customized workout that begins with a five-minute warm-up. Clients may continue with, for instance, a 30-minute weight training session on two major muscle groups or a full-body on-hour training session on the Reformer, with intermittent yoga stretches.
---