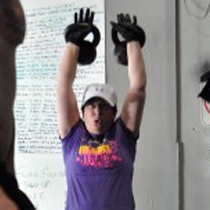 Melissa E.
Personal Trainer "CPT"
A certified personal trainer through the National Academy of Sports Medicine, Melissa Erliech is certain she can change the way you look. How? With ample support and motivation to get you through each session and in the best shape of your life.
Melissa's motivation is your success, and her enthusiasm for fitness is obvious in her high energy sessions. Realistic to the core, she also knows that mental roadblocks can be just as challenging—if not more—than the physical ones. Through her extensive experience and endless creativity, Melissa keeps clients engaged, focused and on their toes from one session to the next.
An innovative trainer, Melissa's distinct approach to circuit training stems from her emphasis on muscle confusion, which keeps the body engaged while resisting plateaus. From warm up to cool down, each hour-long session is designed to boost the metabolism and burn calories long after you've left the gym.
---
Certifications
National Academy of Sports Medicine (NASM)
Specialized Training
HKC Certified Kettlebell Instructor
TRX Suspension Training
Power Plate Fundamentals