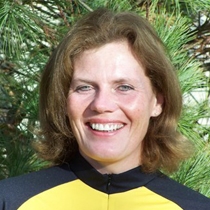 Kimberly H.
Personal Trainer "CPT"
If you hate traffic jams and overcrowded gyms, then you'll love Kimberly Hellyar—a certified personal trainer who brings workouts to client's homes in St. Louis, Mo.
An outdoor junkie with a passion for cycling, kayaking and hiking ("Being outside in the sun under a blue sky and enjoying nature, well, there is nothing better in life to me," she says), Kim believes that results are the best form of motivation. She encourages her clients to track their workouts and food intake with a journal they receive during their initial consultation, and performs a re-evaluation every four to eight weeks to facilitate their transformation.
Kim's clients, who include baby boomers and individuals who want to lose weight, appreciate that they don't have to own a home gym or fancy equipment to get in shape. Kim has and brings all required equipment to client's homes, and designs exercise programs that don't require equipment for clients to perform when she is not around.
The most important lesson Kim teaches clients is to take responsibility for their own health. "You may hire a trainer, but we are here to coach. The work is up to you and the responsibility to stay on track is yours," she says. In other words, clients who want to achieve a peak level of health need to make diet and exercise an integral part of their lifestyle—during and after a session.
---
Certifications
American Council on Exercise (ACE)
Specialized Training
American Council on Exercise, Certified Personal Trainer
American Council on Exercise, Certified Lifestyle and Weight Management Coach
American Council on Exercise, AARP Program
Professional Rescue CPR, AED and First Aid
Mad Dogg Certified Spinning Coach, 3 Star Instructor
AARP Trainer