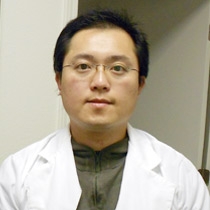 Ta-Li C.
Acupuncturist "BS, LAc, MSAOM"
Ta-Li Chang is an experienced acupuncture and tui-na practitioner in La Habra, Calif. In addition to a bachelors in kinesiology and a masters in oriental medicine and acupuncture (MSAOM), Ta-Li is currently working toward his doctorate degree in the same field.
As a practitioner of acupuncture and oriental medicine, Ta-Li aims to treat the root of his patient's pain, not the pain itself. After determining the cause of physical and emotional stress through a series of questions and examinations, he determines which treatment modalities can be used to decrease unwanted discomforts of the body while also maintaining, improving and strengthening functionality.
To facilitate these improvements, Ta-Li equips his patients with self-care techniques that can be used in the comforts of home, accelerating the recovery process while preventing the exacerbation of existing conditions. Many of his longest running patients are 60-years-old and above, and have been seeing Ta-Li for many years; yet he also demonstrates an intuitive awareness for the treatment of athletes.
---
Professional License
12736
Certifications
California Acupuncture Board