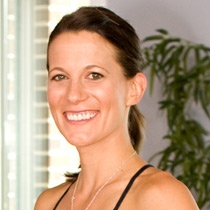 Vicki V.
Personal Trainer "CPT"
A certified personal trainer with 15 years of experience, Vicki Vara now brings her v. method, a blend of exercise techniques that deliver a maximally efficient workout, to client homes and fitness facilities in Northern New Jersey.
For 15 years Vicki has shared her fitness knowledge with clients at health clubs, studios, schools and corporate fitness locations.
Vicki created the v. method for individuals who feel they just don't have enough time to exercise. The movements and techniques in Vicki's method are designed to strengthen your muscles, heart and lungs in the most efficient way possible. Proper nutrition is also an important part of the v. method.
Whether you are looking for a cutting edge exercise class, a personalized nutrition program, or a complete wellness overhaul, the v. method can be personalized to suit any need.
---
Specialized Training
Certifications in personal training, group fitness, mat Pilates, Reformer Pilates, group cycling, and holistic nutrition.