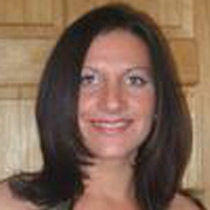 Laurie V.
Massage Therapist "CMT, LMT"
As Laurie Velez knows, most people get too caught up in everyday routines, allowing the stress of life to take over. She encourages her clients to take a break from helping others and to steal a snippet of time for their own health and well-being.
Regular and consistent massage is one of the best ways to maintain a sense of balance and energy. "Make it a part of your lifestyle," Laurie advises. "A healthy body and mind will give you the strength you need to handle everything else in your life."
Laurie, a state licensed and nationally certified massage therapist and Reiki Master, has found her calling in the bodywork business. Her mobile practice, Inner Peace Massage, seeks to do just that—help clients enjoy a moment of calm from within.
Laurie went into massage therapy because she knew she had a talent. She wanted to put her intuitive abilities to good use, by helping alleviate pain and discomfort in people's lives. As she says, "It's personally rewarding to know that I made a difference in someone's life."
Active in several organizations, Laurie is a member of the Associated Bodywork and Massage Professionals and the National Certification Board for Therapeutic Massage. Committed to her own growth as a wellness practitioner, Laurie aims to build upon her own skills by continuing to seek advanced education in holistic medicine.
---
Professional License
NYS License 024981 National Cert #605380-11
Certifications
New York State Board of Massage Therapy
National Certification Board for Therapeutic Massage and Bodywork
Specialized Training
Hudson Valley School of Massage Therapy