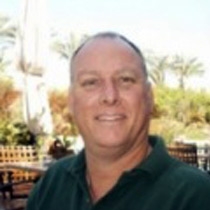 Larry T.
Massage Therapist "LMT"
Larry Tipper is a licensed massage therapist who practices in Wilmington, N.C., where he specializes in neuromuscular therapy—a modality with many similarities to sports massage.
Larry first began training in massage therapy in order to help his mother cope with the symptoms of MS. As he puts it "I took a couple of classes to learn about pressure points, and it's something I fell in love with."
A number of Larry's clients today are looking for relief from injuries through therapeutic massage. He works with clients on a regular basis, implementing neuromuscular therapy as well as deep tissue massage, Swedish massage, and techniques for fibromyalgia release and migraine relief. In addition, he is trained in pre-natal massage for women bearing children.
Meditation and stretching are the perfect complement to the bodywork Larry performs, and with more than 3,000 hours of hands-on practice, his opinion is one who revere. He has been licensed as a massage therapist since 2000 and today operates a thriving practice with upwards of 50 appointments per week.
---
Professional License
NC#7553
Certifications
South Carolina Board of Massage and Bodywork Therapy
Specialized Training
Southeastern School for Neuromuscular and Massage Therapy