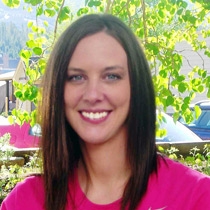 Julie L.
Massage Therapist "LMT"
---
Co-owner of LaFrano Massage Dynamics in Breckenridge, Colo. with her husband, Julie LaFrano is a licensed massage therapist and continuing education instructor for massage. As a therapist with a mobile massage practice, her goal is to improve her clients' proprioception—the physiological phenomenon that unites the mind and the body.
As a medical massage therapist, Julie's passionate about treating athletes and others suffering from scar tissue, sports injuries, unexplained chronic pains, musculoskeletal and connective tissue problems and nerve impingements or entrapments. She has worked with dancers to help increase range of motion and runners and cyclists to improve their performance.
The massage therapist travels to clients throughout Summit county and also to other parts of the state. For clients who have booked Ashiatsu, she brings a portable Ashiatsu bar system that can be set up indoors (requiring 8-foot ceilings) or outdoors so that clients can enjoy the deep, barefoot massage.
Julie also has a special interest in massage for pregnant women, women suffering from infertility, and women recovering from post-mastectomy reconstructive surgery. In these cases, massage can reduce the occurrence of stretch marks, help a woman carry a baby to full term, and reduce scar tissue after surgery, not to mention provide vital emotional support.
A bodyworker since 2005, Julie graduated from the advanced program at the Wellness and Massage Training Institute. She has taken her practice to new levels by combining her medical massage concepts with Ashiatsu Oriental Bar Therapy and reiki.