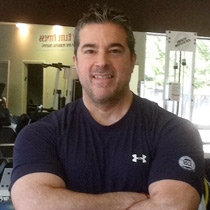 Frank D.
Personal Trainer "CES, CPT"
With Frank DeJesus, the owner and fitness director at Body Elite Fitness in Englewood Cliffs, N.J., it's personal—health and fitness, that is. At his private studio, Frank's carefully vetted team of fitness instructors are dedicated to individualized training for client's personal needs.
A veteran in the industry, Frank has more than two decades of experience helping clients to find their fitness stride. He is a performance enhancement specialist and is committed to showing others how to maximize their health potential using a variety of challenging exercise modalities.
From corrective exercises to TRX suspension training and CrossFit feats, you're in good hands with Frank—a former Mr. New Jersey, Mr. East Coast and Mr. Western USA body builder. More than a personal trainer, however, Frank is endlessly knowledgeable about the human form and seeks to educate clients on how to achieve a sound body and mind.
Frank is dual-certified by the National Academy of Sports Medicine and the International Sports Sciences Association. He is a professional member of the American College of Sports Medicine and the National Strength and Conditioning Association, and trains clients for muscular strength, muscular endurance, body composition, flexibility and aerobic performance.
---
Certifications
National Strength and Conditioning Association (NSCA)
National Academy of Sports Medicine (NASM)
Specialized Training
NASM, Certified Personal Trainer
NASM, Performance Enhancement Specialist
NASM, Corrective Exercise Specialist
NSCA, Certified Personal Trainer
CrossFit, Certified CrossFit Level 1 Trainer
ISSA, Certified Fitness Trainer Level 2
TRX, Certified TRX Trainer
World Oyama Karate, Second Degree Black Belt
Muay Thai, Muay Thai Level 1