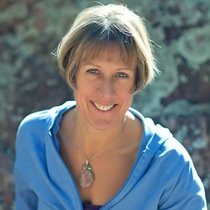 Jyoti R.
Massage Therapist "LMT"
---
Jyoti Rawlinson is a professional massage therapist practicing in Sedona, Ariz., where she helps others to explore what she calls "the art of relaxation" through traditional massage modalities and energy medicine.
Jyoti's career in bodywork began in England, where she studied the basics of Swedish massage while taking a break from her job in book publishing. Her interest in the healing arts only deepened from there, leading her to India where she learned how to meditate along with the benefits and importance of holistic massage.
In the mid-90's, Jyoti moved to Sedona and opened a bodywork practice of her own—Sedona Body and Soul. Today, she is a licensed massage therapist in the state of Arizona, a certified practitioner of Eden Energy Medicine and an authorized instructor of energy medicine for women.