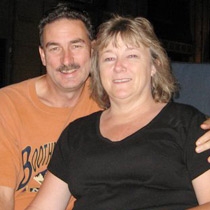 Cindy S.
Massage Therapist "LMT"
---
Comfort comes first with Cindy Strickland, a licensed massage therapist and owner of All About You Massage Therapy, LLC in Coventry, Conn.
At her home studio, Cindy works with clients of all ages, ranging from 18 years old to 73 years young. Age is not a factor when it comes to massage, says Cindy. Bodywork is important during all stages of life.
Cindy's practice has grown almost exclusively on a referral basis, many of her satisfied clients who have shuttled their own friends and family to Cindy's healing hands. Located in the bottom floor of her home, the space is characterized by a cozy country vibe, though with Cindy, it's all professional.
Prior to beginning a session, Cindy offers her clients a quick tour to acclimate them to the facility. Clients are granted the opportunity to ask questions and to decide what they want to wear during the massage.
Cindy works on a heated table. Ambiance is further enhanced by quiet music, dim lighting, warm lotion and proper draping.
Depending on how long a client has booked a session for, Cindy may work on the entire body or focus on a specialized locale. There's no rush when Cindy's done either. Clients are given enough time to get up and get dressed, as well as the chance to give Cindy feedback so that she can make adjustments for the next appointment.