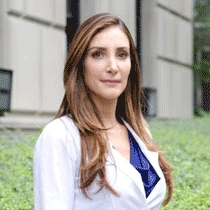 Joie T.
Aesthetician "LE"
With a roster of clients that includes celebrities and models from New York to Miami to LA, Joie Tavernise has more than 10 years of experience helping the elite achieve younger, more vibrant looking skin through conventional aesthetics and natural, holistic approaches.
Joie, whose talents have been sought out for commercials, photo shoots and celebrity events, is wholeheartedly committed to helping her clients look and feel their best from the outside in. Beauty is found through her unique combination of holistic facial treatments, medical aesthetics, and knowledge of facial peels.
Personalization is at the core of Joie's practice, harnessing the notion that no two clients require the same recipe for healthy, beautiful skin. At JTav Clinical Skin Care, clients are treated to highly customized consultations, through which Joie can assess the client's needs before creating a unique program to attain those goals, from blemish removal to tightening solutions and more.
---