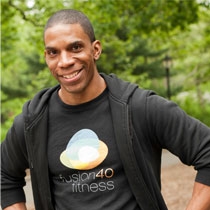 William T.
Personal Trainer "CPT"
At times, the fitness industry can lack humility, patience and graciousness. William—WiL—Turner, a multi-certified personal trainer in New York City, credits his southern upbringing for his capacity to demonstrate all three characteristics.
The founder of Fusion 40 Fitness, WiL strives to bridge the different disciplines of yoga, strength, endurance, sports and rehabilitative training. His all-encompassing programs are designed to educate and motivate his clients to better achieve their fitness goals.
As illustrated by his favorite novel, The Alchemist, WiL believes that when it comes to fitness and health, not everything is what it appears to be. His clients, who range from 21 to 75 years of age, are always pushed to exceed their expectations, whether pre- or post-natal woman or injured athlete.
Above all, WiL emphasizes the importance of form and function while working out. "One should always be aware of the mechanics of their physical anatomy and how it moves," he explains. Doing so can facilitate the overall effectiveness of an exercise program while preventing possible injury and accelerating results.
---
Certifications
National Strength and Conditioning Association (NSCA)
National Federation of Personal Trainers - Master Trainer
Specialized Training
Behavioral Specialist, Mental Health Association, New York
ISSA Certified Master Trainer and Fitness Specialist, 2010