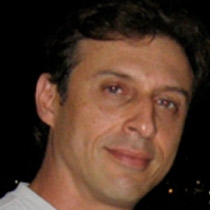 Tony T.
Personal Trainer "CPT"
Fitness isn't a one-time deal, says Tony Torres, a certified personal trainer and co-founder of T2 Fitness Personal Training. To achieve long-term health, you need to "commit to being fit."
Tony has more than 15 years of experience as a personal trainer, designing fun yet challenging workouts and the proper progressions in order to ensure client success as well as their ability to stick with the program.
Proper form and posture are almost as important as exercise itself, explains Tony. To stabilize the spine, Tony seeks to educate his clients not only how to exercise effectively but also how to perform each movement with the proper bodily projection.
While his current client base ranges from ages 15 to 85-years-young, Tony can create an efficient workout regimen regardless of the number of candles on a client's cake. He is certified by the National Exercise & Sports Trainers Association and works with clients from all demographics to establish and accomplish a variety of fitness needs.
A session with Tony begins with a thorough fitness assessment, after which he and his client can set goals and think up a manageable exercise schedule that includes both strength and cardiovascular elements. From start to finish, Tony offers nutritional advice, support and encouragement, and emphasizes the need for personal accountability when it comes to being fit and healthy.
---
Certifications
National Exercise & Sports Trainers Association (NESTA)