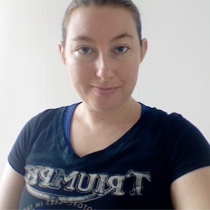 Anastasia H.
Acupuncturist "MS, LAc"
Skilled in treating a range of health issues, from chronic pain to insomnia, stress and unusual disorders, Anastasia Hall combines acupuncture and East Asian medicine to help clients improve their health and well-being. Affiliated with Exhale Spa in Boston, Mass., she strives to provide much-needed change so that clients leave feeling refreshed, reinvigorated and better than ever before.
Some of Anastasia's clients are individuals who tried numerous prescriptions and advice from modern doctors, with little result. She has helped clients with Reynaud's and cyclists with aggravating nerve injuries, offering relief when all other outlets failed. "Many of us believe our illness or injury has no solution," Anastasia says. "This is rarely the case. Acupuncture can resolve chronic issues and alleviate symptoms of chronic disease."
A graduate of Smith College, where she earned a bachelor's degree in neuroscience, Anastasia was originally on a path toward medical school. Following a sojourn to the University of Adelaide in South Australia, she became disillusioned with modern medicine. Drawn to alternative healing modalities instead, she studied at the Tri-State College of Acupuncture before opening a private practice in New York City.
Anastasia has been in practice since 2005, using acupuncture to resolve illnesses and injuries for hundreds of clients, some suffering from sinus infections and allergies, others dealing with pulled rotator cuffs or dislocated wrists. She treats insomnia, anxiety, emotional issues and sunburn, among other conditions.
---
Professional License
NYS LAc #03080
Certifications
New York Division of Professional Licensing Services