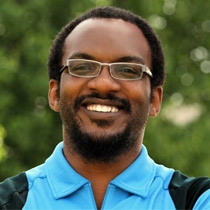 Greg K.
Personal Trainer "CPT"
If a personal trainer claims to know what you need even before an initial meeting and consultation, run—fast—in the other direction. So believes Greg Kimbrough, a certified personal trainer and performance enhancement specialist in McKinney, Texas.
Owner of Bizzy Bodeez, Greg is a former semi-pro athlete with more than 15 years of industry experience and the foresight to meet clients face to face before determining what they need. This sense of practicality has enabled him to work with an assortment of clients of all ages, levels and abilities throughout his career, from athletes to seniors.
Preferring to work outdoors as much as possible, Greg incorporates free weights, resistance bands and even boxing gloves for a session that's sure to challenge the entire body. "The work will be intense, but you will be able to handle it," he notes.
Greg, who was born in Minnesota, spent his life in 10 different cities across five states, spanning all quadrants of the country. His current endeavors are as varied as his background; he is certified through the National Academy of Sports Medicine (NASM) and offers personal training, nutritional counseling, boot camps and more.
As part of his training, Greg does not promote long rest times between exercises, although he always makes sure clients are ready for the next step. "I like to say 'if it wasn't difficult, we wouldn't be working out, we'd be hanging out," Greg jokes. "Then I'd be the most expensive friend you ever had!"
---
Certifications
National Academy of Sports Medicine (NASM)