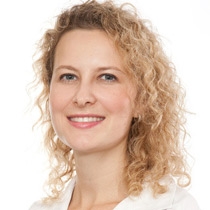 Marianna B.
Dermatologist "MD"
Dr. Blyumin-Karasik was born in Estonia and moved to the U.S. at the age of 11. Raised in Maryland, she quickly fell in love with the Georgetown campus, fueling her desire to attend the prestigious university and study amidst the Gothic-style buildings.
Turning her dream into a reality, Dr. Blyumin-Karasik attended Georgetown for her undergraduate degree, returning soon after for medical school. Her medical education culminated at Harvard University, where she completed her fellowship, and the University of Miami, which would become the backdrop for her dermatology residency and her future career.
Today, Dr. Blyumin-Karasik is a member of Minars Dermatology in Hollywood, Fla., home to a variety of laser devices and treatments, including the removal of unwanted hair, veins, sun spots and tattoos as well as skin resurfacing. More than a center for treatment, Dr. Blyumin-Karasik takes the time to educate her patients too. "We like to be comprehensive," she explains, teaching her patients to act as self-advocates for the health of their skin.
From simple conditions such as warts and eczema to complex diagnoses in medical dermatology, Dr. Blyumin-Karasik is passionate about what she does. Ultimately, to her, cosmetic dermatology is like an art and requires care and precision to enhance a patient's natural features. She also enjoys the intellectual aspects of her profession, through which she conducts medical research and continues to explore the latest advances in her field.
---
Certifications
American Board of Dermatology