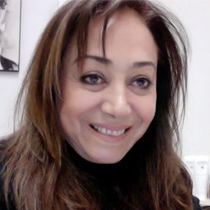 Shohreh V.
Aesthetician
Shohreh Vaziri is an experienced aesthetician with over 20 years of practice in the D.C. area and around Virginia.
Throughout her career, Shohreh has been afforded the opportunity to work with luminaries like Michael Crawford, Stevie Wonder and political figures. She offers facials, permanent make-up, microdermabrasion and services designed to improve the aesthetic well-being of her clients.
Shohreh's European facials are customized to the unique skin care needs of each client. 90-minute facial treatments include skin analysis, deep-cleansing, exfoliating or glycolic peeling, extraction and special add-ons like aromatherapy or collagen. During a facial, Shohreh massages the face, decollete and shoulders and applies a mask to restore the skin's healthy glow. "Once they are experienced, they are not soon forgotten," she says of the experience.
---