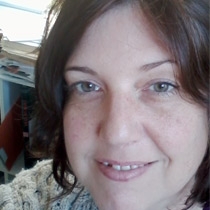 Suzanne P.
Massage Therapist "CMT"
Suzanne Peranteau studied bodywork in England, China and back home in Baltimore before relocating to Spring Green, Wisconsin. She believes that massage therapists fulfill a similar role to that of a supportive parent: to hold the door to healing open and to let people walk through.
A professional bodyworker with more than 15 years of experience in the health and wellness field, Suzanne incorporates Eastern therapies into her practice, including shiatsu, energy work and acupressure. Throughout her long and fruitful career, she has helped a diverse population of clients to find relief from both emotional and physical stresses of life.
Suzanne is experienced with a wide range of pathologies and conditions including chronic and acute pain, fertility massage, diabetes neuropathy, fibromyalgia and migraines. A teacher of others, she also educates fellow students of bodywork in acupressure, trigger point therapy, advanced massage techniques, shiatsu and Russian sports massage.
---
Professional License
M02767
Certifications
Maryland Board of Chiropractic and Massage Therapy Examiners