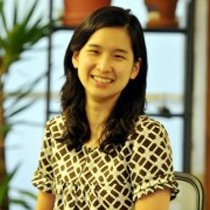 Julie L.
Acupuncturist "LAc, MSAOM"
A licensed acupuncturist and board-certified herbalist in the state of Oregon, Julie incorporates the practice of Oriental medicine to enhance the body, mind and spirit utilizing therapies that aim to harmonize yin and yang.
Raised in Seoul, South Korea, Julie was born into a family with a long history of working in Oriental medicine. Her father, a famous MD, PhD and professor of Oriental medicine at Kyung-Hee, served as Julie's primary source of inspiration to go into the family business.
Prior to commencing her education in the field of Oriental medicine, Julie was a competitive figure skater in Seoul for 10 years. During her skating career, she worked with a team of wellness practitioners, including an acupuncturist, chiropractor and massage therapist, to help improve her skating and maintain her weight. In later years, she also coached figure skating, and quickly realized how all of these modalities helped her and her students excel in the sport.
Upon graduating from Seoul Women's University with a bachelor's degree in the science of human movement, Julie moved to Portland, Ore. and opened her practice, Unique Acupuncture and Oriental Medicine Clinic. Today, she offers the residents of Portland the opportunity to improve their performance and lives through acupuncture, Oriental medicine, tai chi, moxibustion, cupping, Chinese herbal medicine and nutritional counseling.
---
Professional License
AC150767
Certifications
National Certification Commission for Acupuncture and Oriental Medicine
Oregon Board of Medical Examiners
Specialized Training
Oregon College of Oriental Medicine