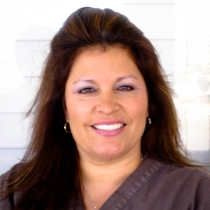 Nelda M.
Massage Therapist "LMT"
Nelda Mar is a licensed massage therapist in San Antonio, Texas and has practiced therapeutic massage since 2001.
A graduate of the European Massage Therapy Institute in San Antonio, Nelda currently maintains her own practice, Tranquil Touch Therapeutic Massage, and also works at Northside Chiropractic.
Nelda specializes in Swedish, hot stone, deep tissue, reflexology, muscle toning facial massage, TMJ treatment, manual lymphatic drainage, myoskeletal alignment techniques, and specialized therapeutic massage. She has helped individuals suffering from carpal tunnel syndrome, plantar fasciitis, tennis elbow, frozen shoulder, sciatica, thoracic outlet syndrome and rotator cuff syndrome. Clients appreciate her use of heat with many of her massage treatments.
With over a decade of experience in the field, Nelda has tended to a wide range of clients, from busy parents and professionals seeking relaxation, to athletes recovering from injuries, to a high-end clientele in search of a luxurious experience.
---
Professional License
MT026022
Certifications
Texas Department of Health Services
Specialized Training
European Massage Therapy Institute, San Antonio, Texas (2000)