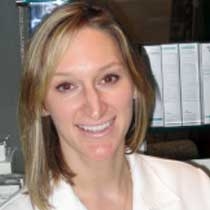 Jennifer C.
Dermatologist "FAAD"
A graduate of the University of Maryland, Dr. Chwalek completed her internal medicine internship at Mount Sinai Medical Center in New York prior to pursuing her clinical research fellowship. Dr. Chwalek studied cutaneous hair biology and alopecia with Dr. Vera Price at the University of California, San Francisco. Dr. Price is a renowned practitioner in the field of hair loss and dermatology and was a tremendous influence on Dr. Chwalek's present level of expertise.
Prior to joining the elite team of qualified practitioners at Skin Surgery and Laser Specialists of New York and New Jersey, Dr. Chwalek served as chief resident at the University of Maryland and as clinical instructor at the University of California, San Fransisco in the department of dermatology.
Dr. Chwalek has contributed book chapters and articles to a number of peer-reviewed journals and respected medical references. When she's not offering top notch advice to patients on the east coast, you can find her lecturing at national and international conferences.
---
Certifications
American Board of Dermatology