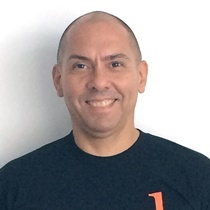 Angel O.
Massage Therapist "LMT"
Residents of Miami flock to Angel Orozco, a licensed massage therapist and holistic health counselor, for his signature and most popular massage—the Zen Fusion massage.
Angel prides himself on his ability to use alternative bodywork therapies to help clients relieve aches and pains while achieving an overall feeling of well-being. Educated at top schools in both New York and South Florida, Angel also has a background in Chinese medicine and acupuncture, having studied in Thailand, Vietnam, Indonesia and India. Passionate about the healing power of touch, integrative nutrition and holistic medicine, Angel aims to teach others how to live their lives in a more health conscious manner.
---
Professional License
FL License MA14056
Certifications
Florida Board of Massage Therapy
Specialized Training
Institute of Integrative Nutrition, New York City, NY (2003)
Educating Hands School of Massage Therapy, Miami, FL (1992)
Current & Previous Employers
BodySense Holistic Wellness Center and Spa