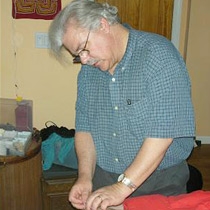 Thomas N.
Acupuncturist "MS, LAc"
Thomas Nash is a New York state licensed and nationally board certified practitioner of the ancient art of acupuncture and traditional Chinese herbal medicine. His style, based on classical, five element Japanese acupuncture, uses thinner needles so patients feel minimal or no discomfort.
Tom began his career studying mental health and addictive disease medicine, working in clinical settings as a therapist and program director. After 25 years in the field, he began to search for a more holistic way to heal the body, mind and spirit—as well as his reoccurring migraines. Finding relief from his own unrelenting headaches through acupuncture, Tom decided to return to school to explore Oriental medicine.
Tom attended New York College of Health Professions' Graduate School of Oriental Medicine, completing the program in 2003. While there, he was recognized for his academic and clinical achievement, earning honors for both.
Given the success of his formal training, Tom was granted the opportunity to remain at the school for an additional year as a resident scholar—an invitation few receive. Naturally, Tom chose to accept this position, and spent ample time studying Traditional Chinese Medicine (TCM) for gynecology and Japanese acupuncture techniques.
Tom joined the faculty of New York College of Health Professions full-time the following year. Throughout his career, he has filled various roles, including clinic director, chair of the Oriental science department, director of the master's thesis and comprehensive exam program, senior faculty adviser and special assistant to the dean.
---
Professional License
25 002487
Certifications
National Certification Commission for Acupuncture and Oriental Medicine
New York Division of Professional Licensing Services
Specialized Training
New York College of Health Professions, Graduate School of Oriental Medicine, 2003