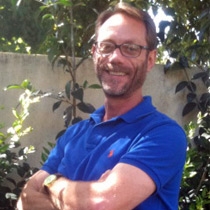 Jef W.
Personal Trainer "CES, CPT"
Jef Wheeler is as loyal a personal trainer as his clients are to him. His longest professional relationship (nearly two decades!) is with a high-profile figure in the entertainment industry and with members of her family.
Jef can best be described as a well-rounded fitness professional who seeks both value and results from every training session. His instruction is centered around client's individual goals, with which he designs a step-by-step process to attain results in an efficient and energetic manner.
To build a safe and healthy environment, Jef works with physicians and physical therapists to address health concerns that can be improved with exercise. Through a clear and planned approach, clients can learn to strengthen muscle, improve balance, increase stamina and more, ultimately discovering what it means not only to look healthy but to feel it too.
"I love helping people achieve their fitness goal and seeing the light bulb go on in their eyes," says Jef when asked to reveal what he believes to be the best part about his job. "Communicating and adjusting their program to fit the specific day or interim goal is always exciting for me."
---
Certifications
American Council on Exercise (ACE)
National Academy of Sports Medicine (NASM)
American College of Sports Medicine (ACSM)
Specialized Training
Fitness Instruction, UCLA Extension Certificate Program
Clinical Exercise Specialist, American Council on Exercise
Personal Trainer, American Council on Exercise