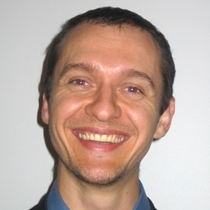 Paul K.
Acupuncturist "LAc, MSTOM"
"Health is one of the single most important things in our lives," says Paul Kempisty, a licensed acupuncturist with a private practice in downtown Manhattan. "When we don't have it, we want it back. And when we do have it, we always want more!"
Paul takes a holistic approach to health. This idea focuses on helping individuals to find physical and mental balance. Paul uses a calculated blend of techniques to achieve this desired state of equilibrium, including acupuncture, herbs, aromatherapy and reiki. Together, he insists, these powerful tools can be life changing.
Paul earned his certification in the U.S. and abroad through a four year master of science program. After receiving his degree from the renowned Pacific College of Oriental Medicine in New York, he continued to study the application of Traditional Chinese Medicine (TCM) in oncology and gynecology while living and studying in China. Paul worked closely with western medical oncologists and hematologists upon his return to the U.S., providing complementary health care counseling at a chemotherapy clinic.
"Whatever the case may be, even patients with no specific medical condition can gain profound benefits in all areas of their lives," he explains of acupuncture. Among the many advantages of acupuncture and other holistic healing modalities are increased energy, reduced stress and improved immune function.
---
Professional License
25 002726
Certifications
New York Division of Professional Licensing Services