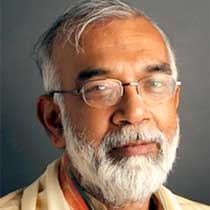 Archarya G.
Yoga Instructor
Teaching yoga to more than 60,000 students in India, Mongolia, Indonesia and the U.S. over 30 years, Archarya Girish Jha brings the teachings of ancient spiritual traditions to contemporary yoga practices.
Hailing from a family of master teachers of yoga and spirituality, Archarya grew up steeped in the Himalayan teachings of yoga, tantra and spirituality. He has devoted his entire life to yoga. Propelled by a deep urge for self-discovery, he has journeyed into the Himalayas, to his teacher, Swami Laxman Das Avadhootji, and into the different spiritual traditions of India.
As a teacher, Archarya's goals are simple: to help students attain health, harmony and happiness. He blends different schools of yoga—including hatha, raja, karma, tantra and bhakti—so that those who are on a spiritual path can find even greater inspiration and fulfillment. Through customized sessions with Archarya, students can manage their physical, emotional, mental , social and professional problems as well as awaken discover their real-selves.
Today Archarya is a director in the New Brunswick, N.J. branch of SHREYAS, or Samvit Holistic Educational and Research Institute of Yoga and Allied Sciences, an international organization dedicated to yoga education and research. He offers retreats, long-term courses and teacher trainings.
Before coming to the U.S., Archarya spent more than a decade as a teacher and researcher at the Morarji Desai National Institute of Yoga in India. He led a wide range of students, from Ayurvedic doctors to army officers, in yoga and applied Indian philosophy. In Jakarta, Archarya taught yoga on behalf of the Indian Council of Cultural Relations.
---